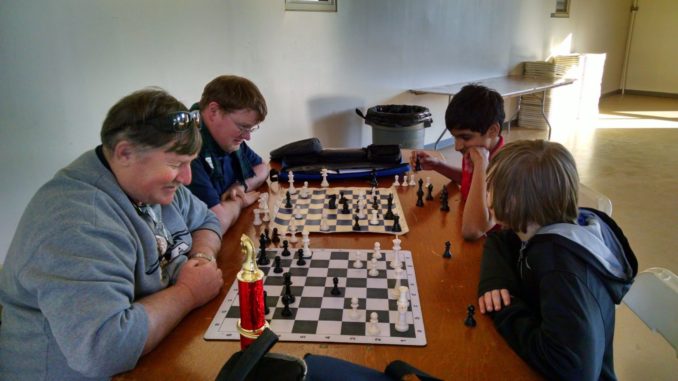 It was a very cold yet clear day in west central Virginia at Ash Lawn – Highland the home of our 5th President James Monroe and active chess player for the 1st Annual Presidents K-12 Open Chess Tournament.  Eighteen intrepid young people played in this 5 round, 3 section, round-robin style event.
We were honored to host some unexpected visitors.  Zoe Lander, a UVA Law School Graduate now practicing in Columbia, South Carolina came up with her two twin sons (pictured below) to revisit the area, including Ash Lawn – Highland.   When the boys heard about the event they had to stop by.  While the boys did not play in the event, they did play "Skittles Chess" with participants.   Skittles chess are casual or "pick-up" games, usually played without a chess clock.   At chess tournaments, a skittles room is where one goes to play for fun while waiting for the next formal game.   The skittles room was the lower level of the two story events barn where the tournament was being played in the upper level.
Individual honors were as follows:
Rated Section (Rook Group)– High School (9-12)
Rated Section (Knight Group) – Middle School (6-8)
1st. – Taishan Carr (4.0/5.0), (6th Grade) Home School ***
2nd. – Josiah Howard (4.0/5.0), (8th Grade) Home School ***
3rd. – Llyr Neumann (2.5/5.0), (8th Grade) Community Public Charter School
*** Tie breaker goes to head-to-head match result
Unrated Section (Bishop Group) – Elementary School (3-5)
1st. – Caleb Burnham (5.0/5.0), (5th Grade) Home School
2nd. – Tanner Hogsten (3.5/5.0), (5th Grade) Home School
3rd. – Jordan Tessier (3.0/5.0), (4th Grade) Home School
Each participant received a participation certificate (see below) in addition to a chess token key ring, a Chess magazine donated by Mr. Keith and a medal or trophy depending on how they placed in their section in the event.  After the event was over Mr. Keith and Mr. Nate played a game of  bug house chess with Krishan and Aaron who played in the HS Rated Section of this event.
Also, put Wednesday, 20 July 2016 on your calendars for the 1st Annual Ash Lawn – Highland International Chess Day Celebration.  Planning is taking place now!  Ash Lawn – Highland receives more than 50,000 visitors annually from around the world.  The aim of this event is to promote the international appeal of the game of chess with fun and education that promotes chess, especially for in the k-12 age range.  The following experiences are being planned:
and information on K-12 chess across the Charlottesville Area Community Foundation (CACF) service area (City of Charlottesville and the counties of Albemarle, Buckingham, Fluvanna, Greene, Louisa, Nelson and Orange.)   Participants will also be exposed to the other forms of chess played today that have been played typically unchanged from their ancient forms.  Be looking for more information in the coming weeks.
Much thanks goes Sara Bon-Harper, Executive Director, and her team at Ash Lawn – Highland who facilitated the use of this wonderful venue for this K-12 chess event. In the years to come we hope this grows into a premium event for area K-12 chess players who are eager to become masters of this mind game.
Our goals for next year are to:
Seek 50/50 participation rate of Boys to Girls in all grades
Seek 30% participation rate for Boy or Girl Scouts desiring to participate
Seek 80% participation rate for Boys or Girls who have a current USCF membership in order to expand rated sections