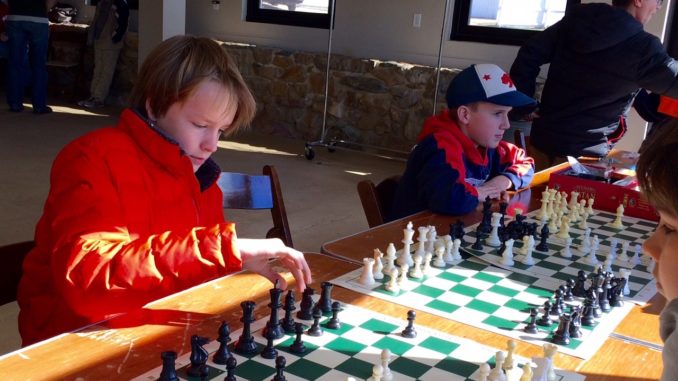 Monday, 07 November 2016 is a Chess Fun Day event in place of what was to be the 1st Annual Highland International Chess Day Event that was to have taken place 20 July, 2016.   International Chess Day is always held on 20 July each year.   Its purpose is to raise the awareness that chess is an international game played from palatial estates to not so palatial locations and from the international space station to submarines patrolling our oceans.
Parents, this will be the day before Election Day on 8th November, so  please don't forget to vote, and if you are looking for something for your K-12 chess player to do, we encourage you to bring them by to have some chess fun.    The aim of this event is to promote the game of chess and promote the opportunity to expand chess for all area K-12 students.  It is FREE to participate, except for the Blitz Tournaments (1 rated & 1 Unrated) schedule to also take place!
The following experiences are planned:
Playing ACES CHESS wants to create a total chess experience for K-12 students chess across the Charlottesville Area Community Foundation (CACF) service area (City of Charlottesville and the counties of Albemarle, Buckingham, Fluvanna, Greene, Louisa, Nelson and Orange).  But, in order to do that we need to engage the community as advocates for both after and school and community chess education programs and competitive events so these young players can continue to hone their skills again other skilled K-12 chess players.
Much thanks goes Sara Bon-Harper, Executive Director, and her team at Highland for their flexibility who are facilitating the use of this wonderful venue.  In the years to come we hope the relationship grows into two premium events for our area K-12 chess players who are eager to become masters of this mind game. Those two annual recurring events expect to be:
President's Day weekend each February with a K-12 Rated Tournament
20 July Annually, which is International Chess Day (a Chess Fun Day)
Remember, chess has lifted the hopes and dreams of young eager minds from the USA and around the world as told via movies such as:
Here is what kids and others say about chess!
Come enjoy a fun day of chess.  To let others know in your social circles please download this flyer (Highlands BTS 2016 Chess Flyer V1b) and share it with them.  Register for one of the two K-12 Blitz events – (1) Rated & (1) Unrated event.
IMPORTANT: If you are are UVA Madison House or other UVA student volunteer and want to help with this event please contact Bailey Payne (Madison House Student Program Manager supporting Playing ACES CHESS) to sign up to help for what will be a great community event.
If you interested in K-12 chess grow and want to help sponsor this or another K-12 chess event please contact Nate Szejniuk to learn more (playingaceschess@gmail.com).